Albanian cookery class with Deshira
March 18 @ 6:00 pm

-

7:30 pm
Learn the secrets of Albanian cooking in Deshira's online cookery class!
Join Deshira in preparing a wonderful Albanian dish for her online cookery class! She is a wonderful teacher, chef and story-teller. She will share the secrets to traditional Albanian dishes. This is your chance to learn a brand new cuisine, support an amazing cause, and eat great food.
The class will be conducted as an interactive virtual cook-along. The classes usually range from 1-2 hours long. The chef will lead the group step by step through the recipes; stopping frequently to answer questions, share anecdotes, and provide feedback on your dishes!
Before the class, we will send you a list of ingredients, quantities and equipment so you can join ready to learn! We will also send you a reminder email 3 days before the class takes place that will include the Zoom link, titled "Your upcoming online Migrateful Class". You can also find the Zoom link on the Online Event Page, accessible through the link included in the Eventbrite reminder email.
Deshira's cook-along dish will be Jhani (meat stew) and Petulla me Kungulleshka (courgette pancakes)
This menu is contains meat (mutton). Allergens include: eggs.
Equipment List
1 Large bowl
1 Grater
1 Sieve
2 Frying pans
1 Large pot
1 Oven tray
Kitchen paper/baking paper
1 Slotted spoon
Ingredients List
100g of mutton (alternative, lamb or beef)
1 carrot
1⁄2 large green chillies or 1⁄2 tsp chilli flakes
2 red onions
5 cloves of garlic
2 Tbsp ghee (or sunflower oil)
1 x 400g tin of chopped tomatoes
1 bunch of fresh parsley
1 courgette
50g cheddar cheese
1 egg
100g plain flour (or alternative flour: whole wheat
or corn)
Vegetable oil
Salt and black pepper
Overnight marinade:
1 tsp black pepper
1 tsp paprika
1 tbsp vegetable oil
1 pinch of salt
1 tsp dried chillies
Message from Deshira: "My name is Deshira, and I come from Albania which is located in the South-East of Europe. Albanian cuisine is representative of the Mediterranean diet, based on the importance of olive oil, fruits, vegetables and fish. I started cooking when I was nine years old because my mother got sick and spent three months in hospital. So, I was "on duty" taking care of my little brother and dad. I remember the first dish I made was my favourite Albanian dish called "byrek," made with lots of pastry filled with mince, cheese, or spinach. I was brought up in a culture where sharing a meal is a very important way of connecting with others and integrating in the society. With all the problems I'm experiencing with the Home Office my passion for cooking is an amazing way to stay positive through it all."
Payments made through Paypal can take up to 48 hours to have the order confirmed. To guarantee your spot on a cookery class we recommend using a debit or credit card.
Please note, we only process refunds and ticket transfers if we are notified 7 days before the class takes place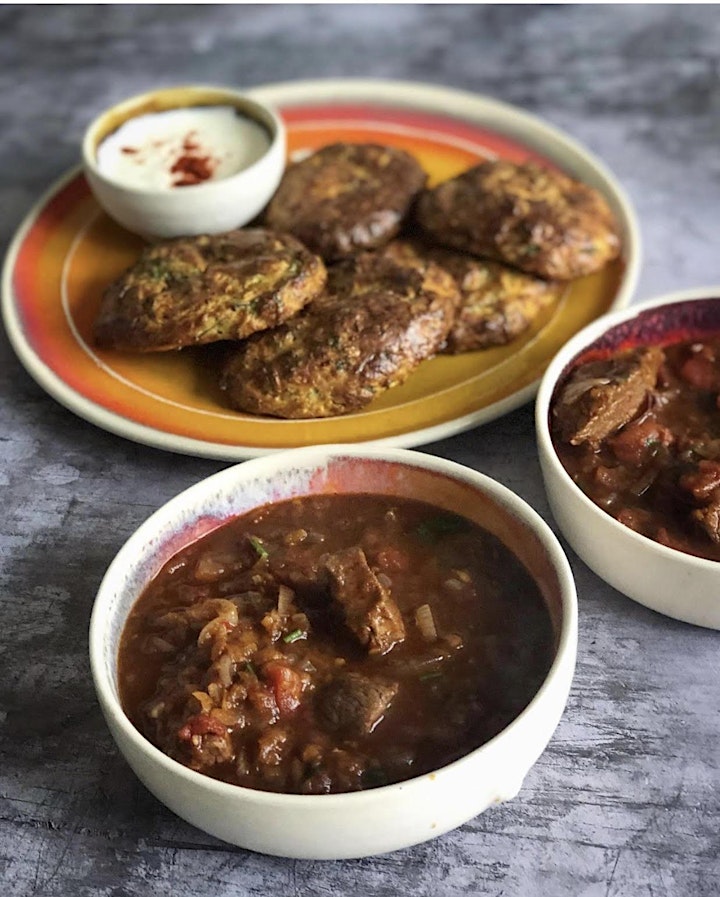 ^ Picture kindly shot by participant @khelabaxter during Deshira's online class