(SOLD OUT) Vegetarian Ethiopian Cookery Class with Sefanit | Training Class
August 2, 2022 @ 11:45 am

-

2:15 pm
In this TRAINING CLASS Sefanit will teach delicious, authentic Ethiopian dishes followed by a sitdown meal.Warm&easy like being with family!
Our new batch of talented Migrateful Chefs are graduating soon and they are now ready to hold practice cookery classes all throughout August!
This particular training class will be led by Chef Sefanit from Ethiopia at the Migrateful Cookery School in Clerkenwell, London.
This will be the first time she will teach the paying public a Family Style Cookery Class, a fun, laid-back homestyle cooking experience. Here, you will learn to prepare different dishes and then enjoy them with people who, like you, fuel our mission of supporting refugee and migrant chefs on their journey to integration. It's a cookery class with a conscience, like they say!
In this class, you will be grouped with other participants and prepare dishes together as a team. Think of Chef Sefanit as the head of the family! She will take care of dividing the class into groups, and each group will be responsible for creating one of the dishes. Of course, you are welcome and encouraged to move around during the class to learn about the other dishes being prepared. Throughout the evening, Chef Sefanit will share stories about her food and culture, and explain how to prepare each of the dishes so you come away with some new cooking tricks and inspiration from Ethiopia. You will also be emailed the recipes after the class.
Please note that these are training sessions where we will be testing the dishes, how the class runs and the quantities in the recipes. Think of it like a technical rehearsal at the theatre. This means it may run for longer than a normal class and involve some stop, starting. Our chef training team will also be present to monitor and observe along with volunteers who will help run the class.
At the end of the class, we will ask the participants for feedback, which will be valuable for our chef-in-training's learning and development especially when they start teaching normal classes.
The menu for the day will be a surprise! But here's a snapshot of Chef Sefanit's delicious dishes!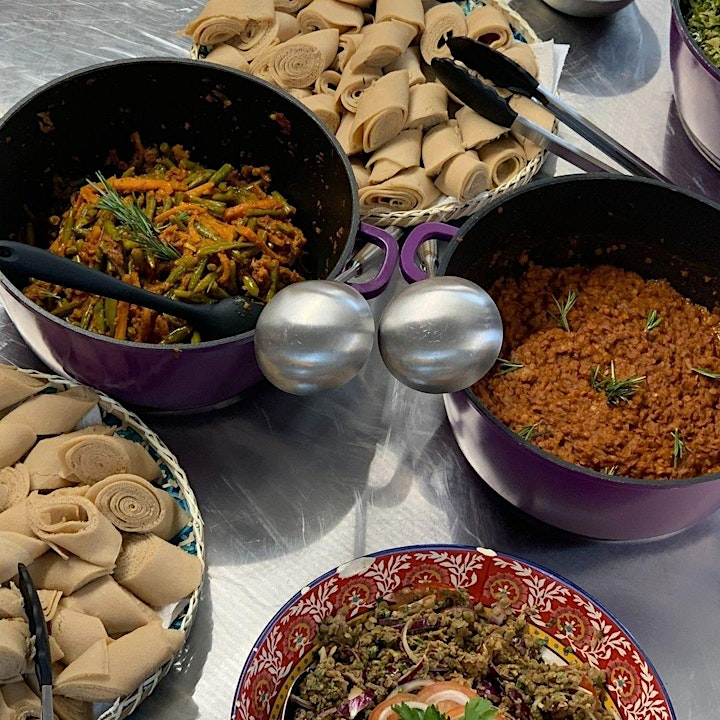 A message from our Chef Sefanit:
" Hello, My name is Sefanit and I am Ethiopian. I was born in the northern part of Ethiopia and grew up in a beautiful mountainous region. When I first moved to London in 2000, as a young girl, life was difficult. I was alone and I found it hard to adjust. I've had some ups and downs but I'm now settled and London is my home. I live here with my 11-year old daughter who is the love of my life.
I was lucky to have the chance to return regularly to Ethiopia and to learn to cook with my mother and grandmother. Ethiopia is a big part of my life. The colours, smells and community of my childhood are still with me and in me. In Ethiopia, food is everything and I can think of nothing better than sharing my delicious vegan and vegetarian food and culture with you."
We're excited to have you in the class! Please take note of a few final reminders:
Unlike regular classes, training classes cannot be booked using gift vouchers. We are also unable to accommodate any ticket transfers from non-training classes.
We will not be able to cater to any dietary requirements nor substitute any ingredients to accommodate dietary needs so please only book into classes that suit your dietary preferences and needs. Please see our Food and Allergen Policy when booking into the class for more information.
We sell Migrateful aprons that you can purchase either when booking your ticket (pick it up at the event) or before the cookery class starts at the venue. They cost £18 per apron. Please note we only accept card payments.
We will send you a reminder email 3 days before the class takes place that will include our In-Person Class COVID-19 Policy. You can also find more information on our website and social media pages.
This small-scale class for 12 participants is not socially distanced. For those seeking a Covid-secure cookery class, please see our events online.
Payments made through Paypal can take up to 48 hours to have the order confirmed. To guarantee your spot in a cookery class we recommend using a debit or credit card.
We only process refunds and ticket transfers if we are notified 7 days before the class takes place.