Gambian cookery class with Sereh
June 17, 2022 @ 6:00 pm

-

7:30 pm
Learn the secrets of Gambian cooking in Sereh's online cookery class!
Join Sereh in preparing a wonderful Gambian dish for her online cookery class! This is your chance to learn a brand new cuisine, support an amazing cause, and eat great food.
The class will be conducted as an interactive virtual cook-along. The classes usually range from 1-2 hours long. The chef will lead the group step by step through the recipes; stopping frequently to answer questions, share anecdotes, and provide feedback on your dishes!
Before the class, we will send you a list of ingredients, quantities and equipment so you can join ready to learn! Please read this carefully as there may be some recipes you need to prepare before the class. We will also send you a reminder email 3 days before the class takes place that will include the Zoom link, titled "Your upcoming online Migrateful Class". You can also find the Zoom link on the Online Event Page, accessible through the link included in the Eventbrite reminder email.
Sereh's Gambian Lamb with Peanut Butter Sauce & Fried Plantain
This menu contains meat (Lamb). Allergens include: milk and peanuts.
Equipment
1 knife
1 chopping board
2 frying pans
1 mixing bowl
Kitchen paper
Ingredients List
150ml lamb (or Quorn), diced

2 garlic cloves
100g peanut butter
1⁄2 onion, finely chopped
3 medium tomatoes, finely chopped
1 small potato, cut into big chunks
1 carrot, cut into big chunks
2 Maggi cubes (African seasoning cubes)
400ml water
1⁄2 red chilli, finely sliced
2 tbsp tomato puree
Salt and pepper to taste
1 bottle of vegetable oil
120g plain rice (for serving)
2 plantains, sliced
A message from Sereh:
"Hello, I'm Sereh from Gambia. I was brought up in a town called Boo Noknok manok. My mother wasn't around when I was growing up so my great grandmother taught me to cook when I was very young. In Gambia all young girls learn how to sweep, boil the rice, wash your cloths and look after yourself from a very young age. My mother tongue is Mandinka. I arrived 11 years ago to Bristol. I have a strong community here. I'm still waiting to get my status from the Home Office so I can start working. I really love cooking. I would like to be a professional chef one day. I love dancing and learning new things. I wanted to join Migrateful because I love cooking so much and I'm excited to teach others about my food"
Payments made through Paypal can take up to 48 hours to have the order confirmed. To guarantee your spot on a cookery class we recommend using a debit or credit card.
Please note, we only process refunds and ticket transfers if we are notified 7 days before the class takes place.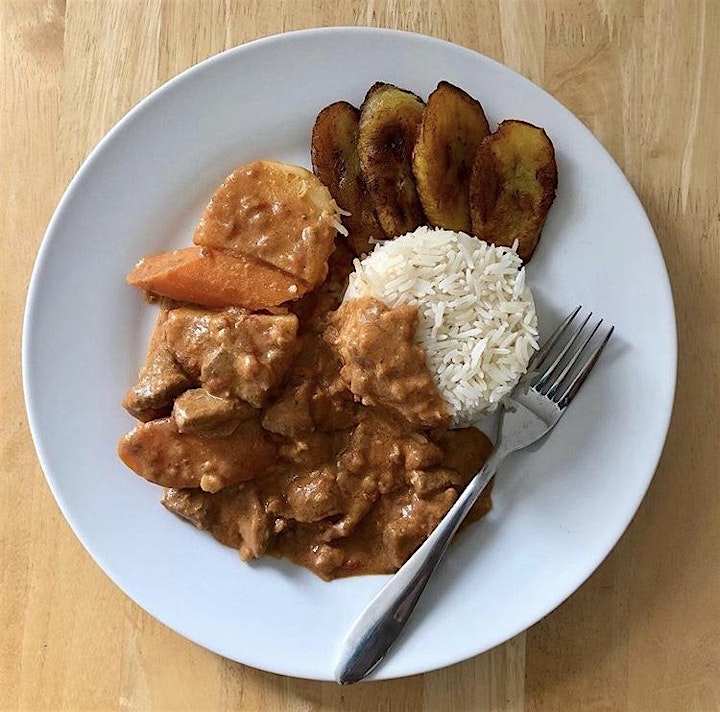 ^ Picture kindly shot by participant @nettychetty during Sereh's online class