(SOLD OUT) Iraqi-Kurdish Cookery Class with Hero| Family Style | LONDON
October 5, 2022 @ 6:15 pm

-

8:45 pm
Chef Hero will teach you some of her favourite Iraqi-Kurdish dishes followed by a sit down meal. Warm & easy, like being with family!
Nothing beats a home-cooked meal shared with family! And this is what inspires our Family Style Cookery Classes, a fun, laid-back homestyle cooking experience. Here, you will learn to prepare different dishes and then enjoy them with people who, like you, fuel our mission of supporting refugee and migrant chefs on their journey to integration. It's a cookery class with a conscience, like they say!
Your class will be led by our wonderful Chef Hero from Iraq at the Holdspace in London.
At our Family Style Cookery Classes, you will be grouped with other participants and prepare dishes together as a team. Think of Hero as the head of the family! She will take care of dividing the class into groups, and each group will be responsible for creating one of the dishes. Of course, you are welcome and encouraged to move around during the class to learn about the other dishes being prepared. Throughout the evening, Chef Hero will share stories about their food and culture, and explain how to prepare each of the dishes so you come away with some new cooking tricks and inspiration from Iraq. You will also be emailed the recipes after the class.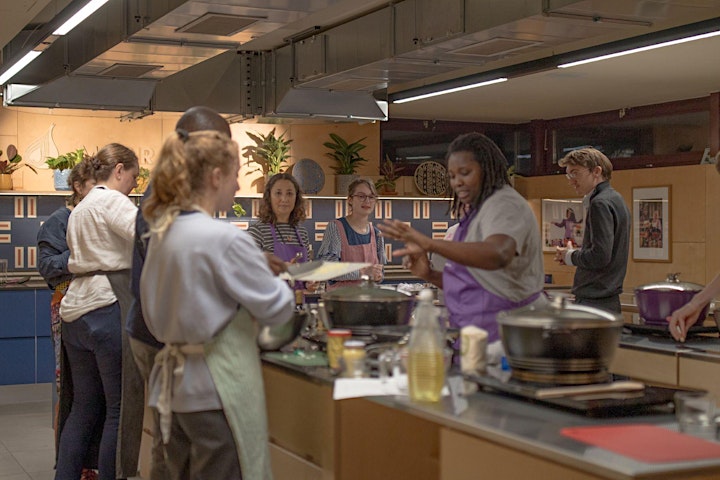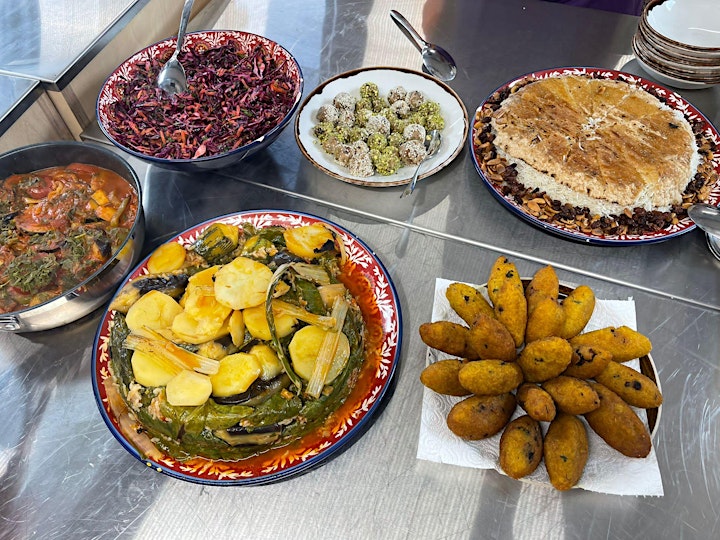 A sample menu of the dishes that will be taught includes:
Tepsi Baenjan (Aubergine Casserole) | Meat (Beef); Gluten
Plaw (Pilau) | Vegan; Tree nuts, Gluten
Kelanah w Doshaw (Breakfast flatbread with spring onions and butter) | Vegetarian; Eggs, Gluten, Milk
Kalarme Sur Zalata (Red cabbage salad)| Vegan; None
Tope Khurma (Date balls)|Vegetarian; Milk, Tree nuts, Sesame
Rice Kubba (Meat filled rice balls)| Meat (Beef); Eggs, Tree nuts
This menu contains meat (beef) . Allergens include: Gluten, Tree nuts, Eggs, Milk, Sesame.
Please let us know if you have any specific dietary requirements so our team is aware ahead of the class but kindly note that we will not be substituting any ingredients to accommodate dietary needs so please only book into classes that suit your dietary preferences and needs. Please see our Food and Allergen Policy when booking into the class for more information.
A message from our Chef Hero:
" Hello, my name is Hero.I came to England in 2016 from the war in Iraq. During my journey here I lived in the refugee camp in Dunkirk with my daughter and son who has Down syndrome. I'll never forget the day the UK Home Office called and said I could come and stay with my brother in Sheffield. I am very lucky.
My favourite dish to cook is Dolma – made with meat or vegetables. I cooked Dolma in the refugee camp for the volunteers who were helping me. It made me so happy to share my Kurdish food with them. One of my favorite memories at Dunkirk was when a volunteer named Lolita would take me and my family out, to shower, to go to the park and to wash clothes. She was the one who helped buy all the ingredients I needed to make Dolma. It was a very special moment for me.
I moved to London in 2020. I am improving my English, my son is in school everyday and my daughters are in good colleges.
I wanted to become a Migrateful chef because I love to cook and meet people. When I cook, I forget my problems and it makes me happy. I'm excited to share my delicious Kurdish food with you."
We're excited to have you in the class! Please take note of a few final reminders:
We sell Migrateful aprons that you can purchase either when booking your ticket (pick it up at the event) or before the cookery class starts at the venue. They cost £18 per apron. Please note we only accept card payments.
We will send you a reminder email 3 days before the class takes place that will include our In-Person Class COVID-19 Policy. You can also find more information on our website and social media pages.
This small-scale class for 12 participants is not socially distanced. For those seeking a Covid-secure cookery class, please see our events online.
Payments made through Paypal can take up to 48 hours to have the order confirmed. To guarantee your spot in a cookery class we recommend using a debit or credit card.
We only process refunds and ticket transfers if we are notified 7 days before the class takes place.