Moroccan Cookery Class with Zineb | Station Style | LONDON
June 4, 2022 @ 11:45 am

-

2:45 pm
Chef Zineb will teach hard-to-find Moroccan recipes followed by a sit-down meal. A delicious learning experience like no other!
It's our joy to welcome you to our Station Style Cookery Class, a one-of-a-kind cookery class experience where refugee and migrant chefs teach personal recipes from their home countries using traditional techniques. It's a unique opportunity to learn and taste the world's best, and to feed the foodie in you who loves nothing more than trying new, mouth-watering flavours and incredible-looking dishes!
Your class will be taught by our wonderful Chef Zineb from Morocco at Migrateful Cookery School!
At our Station Style Cookery Classes, each participant will be paired up and have their own cooking station where they will prepare all the dishes for the night. Each station will be provided with all the ingredients and equipment needed to make them. Throughout the evening, Chef Zineb will share stories about their cuisine and culture, and lead the group step-by-step through their recipes. She will pause in between to answer questions, talk through special tips and techniques, and provide feedback on the dishes. Yes, you learn in the most authentic way! You will also be emailed the recipes after the class.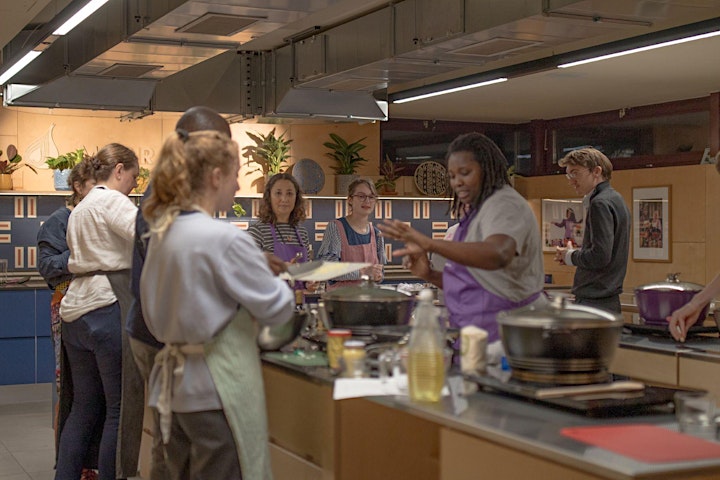 A sample menu of the dishes that will be taught include:
Cauliflower, Olive, & Lemon Tagine,
Zalouk (Carrot Salad)
Tomato & Onion Salad.
This menu is vegan. Allergens include alliums.
Please let us know if you have any specific dietary requirements so our team is aware ahead of the class but kindly note that we will not be substituting any ingredients to accommodate dietary needs so please only book into classes that suit your dietary preferences and needs. Please see our Food and Allergen Policy when booking into the class for more information.
A message from our Chef Zineb:
"Hi everyone, my name is Zineb and I am from Morocco which is situated in North Africa. I inherited my great passion for cooking from my mother. I was always fascinated by her creativity. Moroccan food has consistently been ranked in the lead for being one of the best cuisines. In Morocco we have an abundance of spice, vegetables and fish that reflect on the huge repertoire of dishes we have, from couscous to tagines. It was alien for us to buy ready-made food; anything and everything was made at home. My mother pickled her own olives and it was such fun as we would all help out. She made her own bread and biscuits and dishes were all made according to the seasons.
For me, cooking is therapy, a form of art and love! I always enjoyed mealtime as it was filled with many debates, discussions and laughter around a colourful table. This sadly is starting to disappear but I try hard to maintain it within my own family (if I manage to get them to put their phones down 🙈😂)"
We're excited to have you in the class! Please take note of a few final reminders:
We sell Migrateful aprons that you can purchase either when booking your ticket (pick it up at the event) or before the cookery class starts at the venue. Please note we only accept card payments.
We will send you a reminder email 3 days before the class takes place that will include our In-Person Class COVID-19 Policy. You can also find more information on our website and social media pages.
This small-scale class for 16 participants is not socially distanced. For those seeking a Covid-secure cookery class, please see our events online.
Payments made through Paypal can take up to 48 hours to have the order confirmed. To guarantee your spot in a cookery class we recommend using a debit or credit card.
We only process refunds and ticket transfers if we are notified 7 days before the class takes place.