(SOLD OUT) Nicaraguan Cookery Class with Sammy | Training Class | LONDON
August 30, 2022 @ 11:45 am

-

2:15 pm
In this TRAINING CLASS Sammy will teach delicious, authentic Nicaraguan dishes followed by a sit-down meal.Warm&easy like being with family!
Our new batch of talented Migrateful Chefs are graduating soon and they are now ready to hold practice cookery classes all throughout August!
This particular training class will be led by Chef Sammy from Nicaragua at the Migrateful Cookery School in Clerkenwell, London.
This will be the first time he will teach the paying public a Family Style Cookery Class, a fun, laid-back homestyle cooking experience. Here, you will learn to prepare different dishes and then enjoy them with people who, like you, fuel our mission of supporting refugee and migrant chefs on their journey to integration. It's a cookery class with a conscience, like they say!
In this class, you will be grouped with other participants and prepare dishes together as a team. Think of Chef Sammy as the head of the family! He will take care of dividing the class into groups, and each group will be responsible for creating one of the dishes. Of course, you are welcome and encouraged to move around during the class to learn about the other dishes being prepared. Throughout the evening, Chef Sammy will share stories about his food and culture, and explain how to prepare each of the dishes so you come away with some new cooking tricks and inspiration from Nicaragua. You will also be emailed the recipes after the class.
Please note that these are training sessions where we will be testing the dishes, how the class runs and the quantities in the recipes. Think of it like a technical rehearsal at the theatre. This means it may run for longer than a normal class and involve some stop, starting. Our chef training team will also be present to monitor and observe along with volunteers who will help run the class.
At the end of the class, we will ask the participants for feedback, which will be valuable for our chef-in-training's learning and development especially when they start teaching normal classes.
Sammy is part of our new chef cohort and she is currently working with our Chef Development Team to finalise her recipes she will be teaching in her classes. We have provided a sample of dishes which may be included in this class but will confirm closer to the time of the class, including allergen information. If you have specific dietary requirements, please wait until the allergen information has been released to book into this class.
A sample menu of the dishes that will be taught includes:
Crema de aguacate(Avocado Cream)
Bunuelos (Sweet fritters)
Ensalada de Repello (Cabbage Salad)
Gallo Pinto (Rice and Beans)
Carne Desmenuzada (Shredded Beef)
Frijoles Molidos(Mashed Beans)
Plátano Frito (Fried plantain)
This menu contains meat (beef) and fish . Allergens include: To be confirmed.
Please let us know if you have any specific dietary requirements so our team is aware ahead of the class but kindly note that we will not be substituting any ingredients to accommodate dietary needs so please only book into classes that suit your dietary preferences and needs. Allergen information or this class will be released closer to the class time. Please see our Food and Allergen Policy when booking into the class for more information.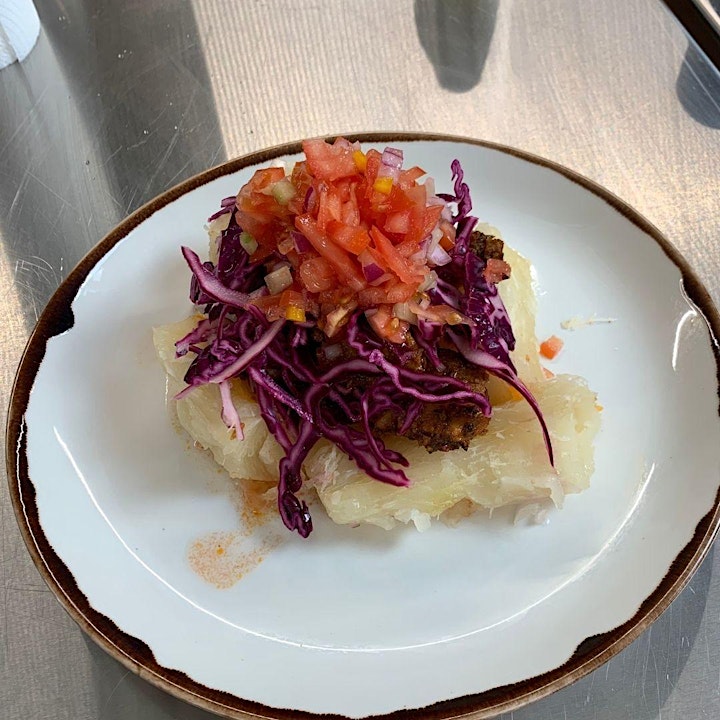 A message from our Chef Sammy:
"Hello, I'm Sammy, I'm from Nicaragua, the biggest country in Central America. I arrived in the UK in August 2021. I was a medical student back home but due to the socio-political crisis in my country I was forced to flee, to leave my studies, my friends, my family and everything I knew. It's like I never existed.
But here I am in a new country, with new friends and a new great family called Migrateful. Migrateful gives us hope. It brings people from everywhere together like family. It is good to have a place to come home to. I believe that if people keep moving, they would not be able to build a good life. In my class, we have created a little Nicaragua, where the food is very varied and above all delicious. Here, you will find everything Nicaraguan, from a good Latin dance to the best dessert you have ever tasted. I look forward to meeting you and having a great time in the kitchen together. See you in the kitchen soon."
We're excited to have you in the class! Please take note of a few final reminders:
Unlike normal classes, training classes cannot be booked using gift vouchers. We are also unable to accommodate any ticket transfers from non-training classes.
We will not be able to cater to any dietary requirements nor substitute any ingredients to accommodate dietary needs so please only book into classes that suit your dietary preferences and needs. Please see our Food and Allergen Policy when booking into the class for more information.
We sell Migrateful aprons that you can purchase either when booking your ticket (pick it up at the event) or before the cookery class starts at the venue. They cost £18 per apron. Please note we only accept card payments.
We will send you a reminder email 3 days before the class takes place that will include our In-Person Class COVID-19 Policy. You can also find more information on our website and social media pages.
This small-scale class for 12 participants is not socially distanced. For those seeking a COVID-secure cookery class, please see our events online.
Payments made through Paypal can take up to 48 hours to have the order confirmed. To guarantee your spot in a cookery class we recommend using a debit or credit card.
We only process refunds and ticket transfers if we are notified 7 days before the class takes place.