(CANCELLED) Pescatarian Ecuadorean cookery class with Leonor
September 10, 2022 @ 6:00 pm

-

7:30 pm
Join Leonor in preparing a wonderful Ecuadorian meal for her online cookery class!
Join Leonor in preparing a wonderful Ecuadorian meal for her online cookery class! She is a wonderful teacher, chef and story-teller. She will share the secrets to traditional Ecuadorian dishes. This is your chance to learn a brand new cuisine, support an amazing cause, and eat great food!
The class will be conducted as an interactive virtual cook-along. The classes usually range from 1-2 hours long. The chef will lead the group step by step through the recipes; stopping frequently to answer questions, share anecdotes, and provide feedback on your dishes! Leonor will be speaking mostly in Spanish during the session and the facilitator will translate along the way.
Before the class, we will send you a list of ingredients, quantities and equipment so you can join ready to learn! Please read this carefully as there may be some recipes you need to prepare before the class. We will also send you a reminder email 3 days before the class takes place that will include the Zoom link, titled "Your upcoming online Migrateful Class". You can also find the Zoom link on the Online Event Page, accessible through the link included in the Eventbrite reminder email.
Leonor's cook-along dishes will be Tortilla Vegetariana (vegetarian tortilla) and Ceviche de Camarón (shrimp ceviche)
This menu contains crustaceans. Allergens include: Mustard, celery, eggs, crustaceans.
Equipment List
1 Frying pan
2 Large mixing bowl
A large flat dish or a tray the size of the
pan to turn the tortilla over and to
serve
A juicer
A knife
A chopping board
Ingredients List
1⁄2 white onion
1⁄2 red onion
3 cloves of garlic
1 green bell pepper
1⁄3 courgette
100g spinach
4 to 5 eggs
1 tomato
1 to 2 lemons
1 orange
300g raw shelled prawns
1 tsp mustard
1 tsp tomato ketchup
1 tbsp frying oil
Herbs & Spices:
1 tsp ground cumin
20g of fresh coriander
Salt and black pepper to taste
Message from Leonor: "My name is Leonor and I am from Ecuador. I came to London 7 years ago. All my friends and family know me for being a wonderful cook. I am a kind and hard working person and I enjoy meeting new people and experiencing new things. I love Ecuadorian food. Migrateful is a very important way for me to build my confidence. My heart beats every time someone speaks English to me in the street. This is why Migrateful is so important for me because it's a chance for me to get over my fear of speaking English. Leading a cookery class feels like a real challenge because of having to be able to communicate in English – but I am excited about this challenge and excited to teach you my Ecuadorian recipes."
All participants will be sent an Eventbrite confirmation email with a list of ingredients, quantities and equipment needed for the class. If you do not receive the confirmation email please check your spam folder. 3 days before the class participants will also receive the zoom link- keep an eye out!
Payments made through Paypal can take up to 48 hours to have the order confirmed. To guarantee your spot on a cookery class we recommend using a debit or credit card.
Please note, we only process refunds and ticket transfers if we are notified 7 days before the class takes place.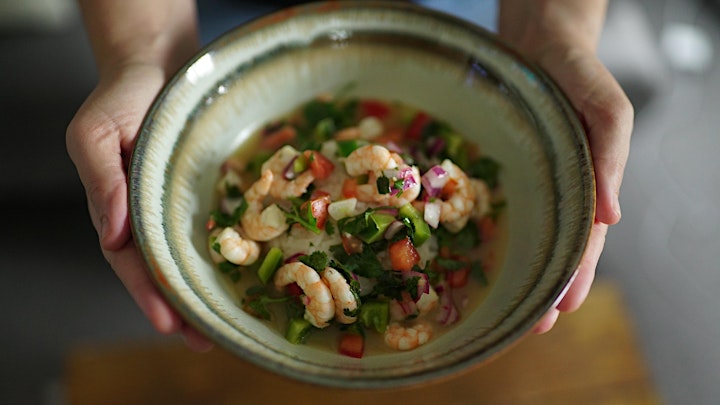 ^ Picture kindly shot by a participant during Leonor's online class