Vegan Sri Lankan Cookery Class with Jahan | Station Style|LONDON
March 4 @ 11:45 am

-

2:45 pm
Chef Jahan will teach hard-to-find Sri Lankan recipes followed by a sit-down meal. A delicious learning experience like no other!
It's our joy to welcome you to our Station Style Cookery Class, a one-of-a-kind cookery class experience where refugee and migrant chefs teach personal recipes from their home countries using traditional techniques. It's a unique opportunity to learn and taste the world's best, and to feed the foodie in you who loves nothing more than trying new, mouth-watering flavours and incredible-looking dishes!
Your class will be taught by our wonderful Chef Jahan from Sri Lanka at the Migrateful Cookery School in Clerkenwell, London.
At our Station Style Cookery Classes, each participant will be paired up and have their own cooking station where they will prepare all the dishes for the night. Each station will be provided with all the ingredients and equipment needed to make them. Throughout the evening, Chef Jahan will share stories about their cuisine and culture, and lead the group step-by-step through their recipes. He will pause in between to answer questions, talk through special tips and techniques, and provide feedback on the dishes. Yes, you learn in the most authentic way! You will also be emailed the recipes after the class.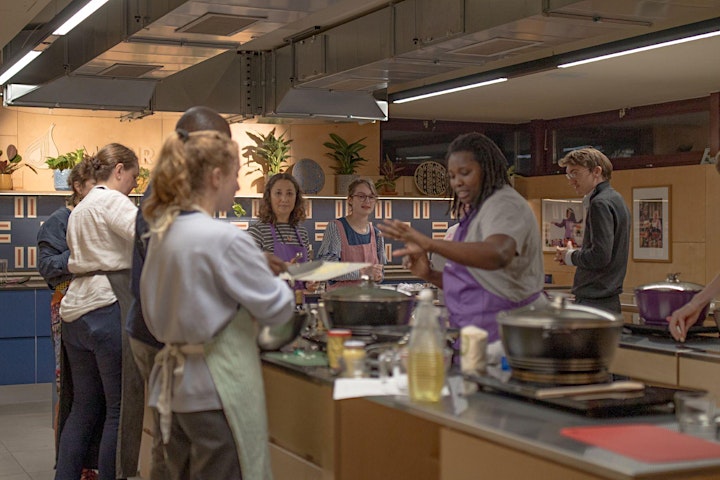 A sample menu of the dishes that will be taught include:
Kahabath (Coconut Milk Rice with Turmeric) | Vegan; None
Soya Devil | Vegan; Soy, Gluten, Celery, Mustard
Pineapple Chutney | Vegan; None
This menu is Vegan. Allergens include: soya, celery and gluten.
Please let us know if you have any specific dietary requirements so our team is aware ahead of the class but kindly note that we will not be substituting any ingredients to accommodate dietary needs so please only book into classes that suit your dietary preferences and needs. Please see our Food and Allergen Policy when booking into the class for more information.
A message from our Chef Jahan:
"Hi! I'm Jahan. I am from the middle of Sri Lanka from a city called Kurunegala. We have three ethnicities in my city: Tamil, Sinhalese and Muslim. We all live together in this city and share 90% of the same food. My dad owned a restaurant in my city. So from the age of 10, I cooked together with my family for the guests. Everything was homemade. We never bought curry powder from the shop. We made it from scratch. It was a restaurant for locals. My father was a very good cook. From a very young age I watched my father cooking and that's how I learnt. I love cooking Sri Lankan food. Sri Lankan cuisine has been shaped by many historical and cultural factors. Contact with foreign traders who brought new food items, cultural influences from neighbouring countries as well as the local traditions of the country's ethnic groups have all helped shape Sri Lankan cuisine. Influences from Indian (particularly South Indian), Indonesian and Dutch cuisines are particularly evident."
We're excited to have you in the class! Please take note of a few final reminders:
We sell Migrateful aprons that you can purchase before the cookery class starts at the venue. Please note we only accept card payments.
We will send you a reminder email 3 days before the class takes place that will include our In-Person Class COVID-19 Policy. You can also find more information on our website and social media pages.
This small-scale class for 16 participants is not socially distanced. For those seeking a Covid-secure cookery class, please see our online events.
We require a minimum of 6 participants to run this class and reserve the right to cancel it due to insufficient enrolment. If this occurs, we will, at your convenience, transfer you to another class of your choice of the same value. If this option does not suit you, you will have the choice to receive either a gift voucher for the class or a full refund. In the case of insufficient enrolment, we will inform you at least 6 days before the class.
Payments made through Paypal can take up to 48 hours to have the order confirmed. To guarantee your spot in a cookery class we recommend using a debit or credit card.
We only process refunds and ticket transfers if we are notified 7 days before the class takes place. No changes are allowed if the class is missed. When you register for this event, you are agreeing to our Terms and Conditions. If you are not able to attend the class, you can pass on your tickets so someone else can attend on your behalf.