[6:00 pm BST] Learn the secrets of Angolan cooking in Edite's new cookery class!
We are so excited for our first online class with the amazing Edite. She is a fantastic chef, story-teller and teacher. This is your chance to learn a brand new cuisine, support an amazing cause, and eat great food! 
The class will be conducted as an interactive virtual cook-along. All participants will be sent an Eventbrite confirmation email with a list of ingredients and quantities needed for the recipe, the equipment needed for the class, and a Zoom meeting link. If you do not receive the confirmation email please check your spam folder. If you are still missing information about the class please email hello@migrateful.org. The classes usually range from 1.5-2 hours long. The chef will then lead the group step by step through the recipes; stopping frequently to answer questions, share anecdotes, and provide feedback on your dishes!
We are running virtual cookery classes during the COVID-19 pademic, while we are unable to run our regular in-person events, as a way to keep connected and to support our chefs.
Edite's cook-along dish will be Moamba de Ginguba (Peanut butter sauce with chicken or mushroom for veggie option) served with Fufu and Braised Spinach or Boiled Okra
Equipment List
2 Frying pans
1 Saucepan
1 big bowl
1 measuring jug
Wooden spoon or spatula
Knife and chopping board
Ingredient List
Peanut butter
Vegetable oil
Garlic
Onion
Tomato
Tomato purée
Chicken or mushrooms
Maize meal, semolina or cornmeal
Okra
Spinach
Vegetable oil
Message from Edite: "Hi I'm Edite from Angola, a country located in the South-West of Africa. I grew up in a very beautiful city called "Malanje". There are beautiful waterfalls there. People love socialising in Angola – we love to meet up and eat, drink and dance. Cemba and Kizomba are our traditional dances which you dance as a couple. It's a very elegant and friendly dance. In Angola the national language is still Portuguese so our culture has been influenced a lot by them, especially our food. Our food is very rich, colourful and diverse. We have so many different types of fruit and vegetables in Angola.
My grandmother taught me to cook when I was very young. She passed away when I was 12 but I always remember the dishes she taught me. I was feeling very isolated living in the UK, even though I arrived here 18 years ago. When I heard about Migrateful I knew this would be a great way to get out of the house, meet people, share my skills and also learn from others. I am very grateful to Migrateful because this opportunity is helping me to reconnect to my roots and keep the knowledge of my traditions alive. I feel very proud to share with London my Angolan culture. It's helping me to remember who I am and where I've come from."
Payments made through Paypal can take up to 48 hours to have the order confirmed. To guarantee your spot on a cookery class we recommend using a debit or credit card.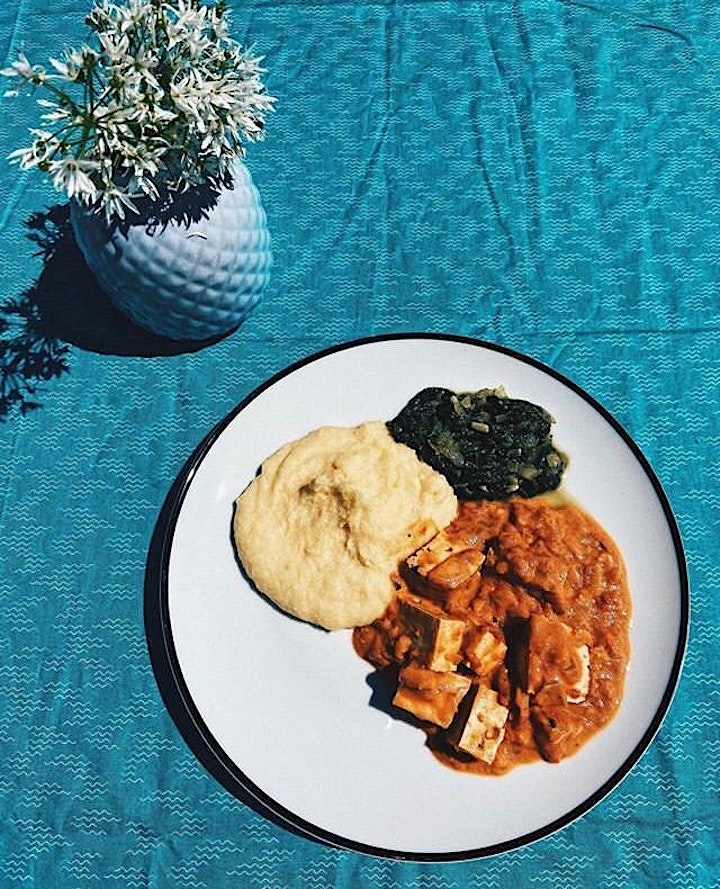 ^ Picture kindly shot by participant @legumemag during Edite's online class