Learn the secrets of Bengali cooking in Aklima's online cookery class!
Join Aklima in preparing a wonderful Bengali meal for her online cookery class! She is a wonderful teacher, chef and story-teller. She will share the secrets to traditional Bengali dishes. This is your chance to learn a brand new cuisine, support an amazing cause, and eat great food!
The class will be conducted as an interactive virtual cook-along. The classes usually range from 1-2 hours long. The chef will lead the group step by step through the recipes; stopping frequently to answer questions, share anecdotes, and provide feedback on your dishes!
Before the class we will send you a list of ingredients, quantities and equipment so you can join ready to learn! We will also send you a reminder email 3 days before the class takes place that will include the Zoom link, titled "Your upcoming online Migrateful Class". You can also find the Zoom link on the Online Event Page, accessible through the link included in the Eventbrite reminder email. We will also include the zoom link in the Eventbrite Order Confirmation email.
Aklimas cook-along dish will be Spinach and Prawn Curry and Mango and Pineapple Chutney
Equipment List
1 Large bowl
1 large pan
2 knives
2 chopping boards
Ingredients List
1 tbsp Ghee or butter or vegetable oil
2 to 3 yellow onions
3 cloves of garlic
250g of king prawns, shelled
1 green chilli
250g fresh spinach
1 bunch of fresh coriander
¼ of a pineapple
¼ of mango
1-2 small chillies
Salt and pepper
Rice (optional, see above)
Spices:
Turmeric powder
Panch Phoron (Bengali Five-Spice) (or fennel seeds)
Chilli powder
Curry powder
Cumin powder
Coriander powder
Garam masala (optional)
Message from Aklima: "Hello I'm Aklima Aktar, I'm from Bangladesh. I have a great passion for authentic cooking using fresh exotic blends of spices. I have years of experience in delivering food to suit all taste buds. I can cook from traditional clay pan to ceramic pan. If you are a food lover and want to go that extra mile to experience hands on cooking authentic traditional Bangladeshi food be sure to book a session with me and I promise you will not be disappointed."
Payments made through Paypal can take up to 48 hours to have the order confirmed. To guarantee your spot in a cookery class we recommend using a debit or credit card.
Please note, we only process refunds and ticket transfers if we are notified 7 days before the class takes place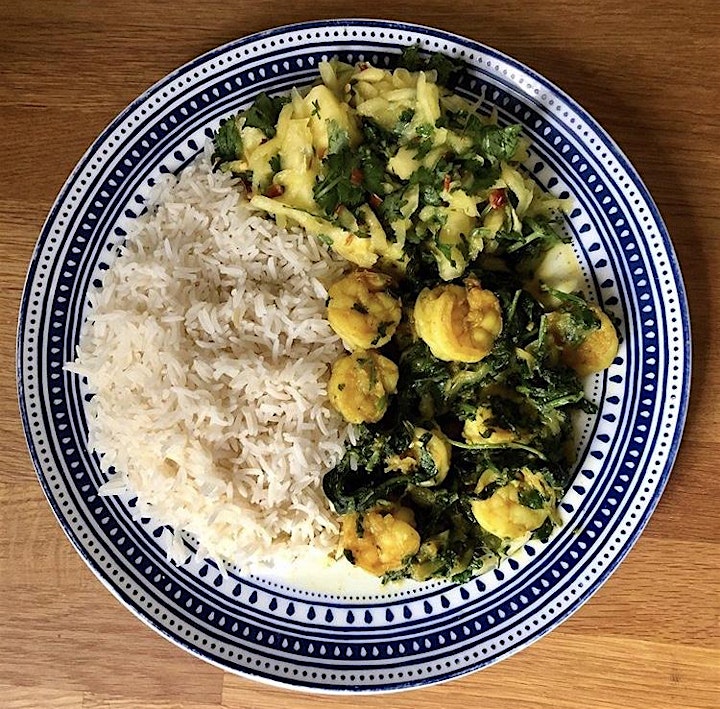 ^ Picture kindly shot by participant @nettychetty during Aklima's online class