Learn the secrets of Filipino cooking with Tina for her online cookery class!
We are so excited for another Filipino class with the amazing Tina. She is a wonderful cook, teacher and story-teller and will share the secrets to a range of Filipino dishes.
The class will be conducted as an interactive virtual cook-along. All participants will be sent a confirmation email with a list of ingredients and quantities and equipment needed for the class, as well as a Zoom meeting link. If you do not receive the confirmation email please check your spam folder. If you are still missing information about the class please email hello@migrateful.org. The classes range from 1.5-2 hours long. The chef will lead the group through the recipe; stopping frequently to answer questions, share anecdotes, and provide feedback on your dishes!
Tina's cook-along dish will be Ukoy (shrimp fritters) and Adobo
Equipment List
Frying pan
2 mixing bowls
Whisk
Ladle or serving spoon
Medium pot 
Tongs
Ingredients List
250g shrimps (or firm tofu, fried beforehand)
1 carrot
250g plain flour
3 tsp cornflour
3 tsp baking powder
1 egg
250g bean sprouts
250g chicken thighs or boneless pork (for vegetarian option use 1 potato, 1 carrot and a hard boiled egg, or firm tofu, no marinade needed)
1 cube chicken stock
1 clove of garlic
1 medium onion
2 dried bay leaves
Soy sauce
White vinegar
1 tsp dark brown sugar (optional)
3 tbsp cooking oil
1 tsp of whole peppercorns
Salt
Soy sauce
Message from Tina: "Hi I'm Cristina. I'm from the province of Bulacan which is close to Manila in The Philippines. I love to cook. My favourite thing to make is Inangit, sticky rice with coconut milk. This was my mother's favourite dish and she passed it down to me. I'm the eldest of 4 and my mother taught how to cook perfect rice when I was 7 so that I could cook for my siblings when she went to work. I'm excited to share Filipino food with people in this country. Teaching a class and sharing my food and my culture with new people fills me with joy and brings back so many happy memories of the home I had to leave behind."
Payments made through Paypal can take up to 48 hours to have the order confirmed. To guarantee your spot on a cookery class we recommend using a debit or credit card.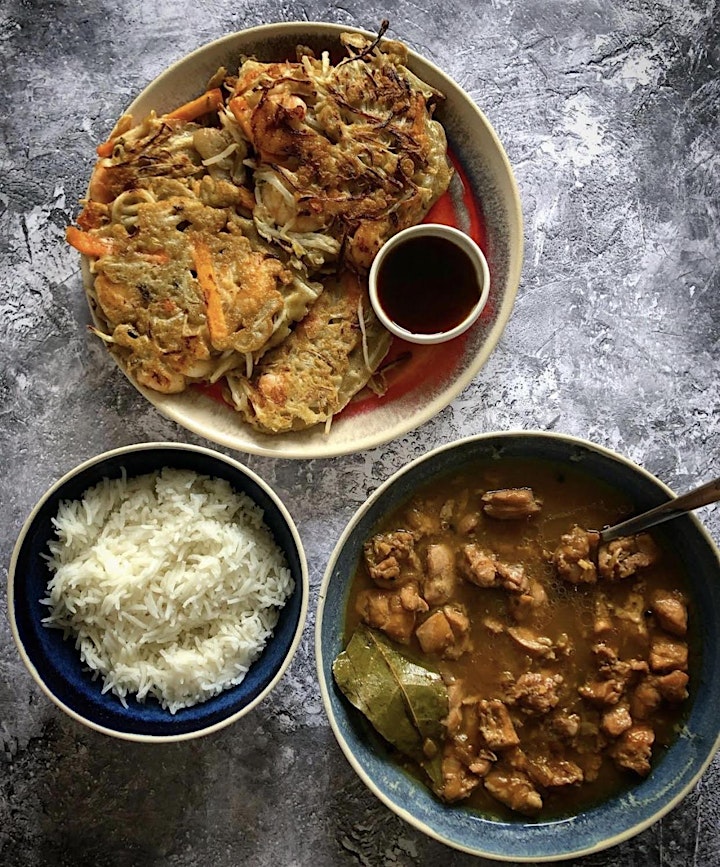 ^ Picture kindly shot by participant @khelabaxter during Tina's online class