Learn to make a traditional Syrian meal with chef Yusuf, then sit down to enjoy a socially distanced meal with the group.
Join Yusuf in preparing a wonderful Syrian meal for his in person cookery class! This is your chance to learn a brand new cuisine, support an amazing cause, and eat great food.
This class will function as a socially distanced cook-along. To aid social distancing, tickets for this event will be sold in pairs. Please only attend this cookery class with someone who is in your household or a part of your support bubble. Each participant pair will be stationed 1.5 metres apart from each other and provided with the ingredients and equipment needed to prepare the dishes. The chef will then lead the group step-by-step through their recipes; stopping frequently to answer questions, share anecdotes, and provide feedback on the participants' dishes! 
Yusuf's cook-along dishes will be Mutabq (fried aubergines) and Fattoush (Syrian salad). This menu is suitable for vegan diets.
Message from Yusuf Message from Yusuf:
"Hello. I am Yusuf. I come from the North of Syria. I grew up in a big family where my mother spent every day cooking. Sitting down and eating all together was an essential part of my upbringing. An exciting part of this was that every day two to three neighbours would bring us dishes to eat and we would give them a dish in exchange. It was an amazing way to keep trying new things!
I came to the UK four years ago. During this time I lived with two different British families. I was cooking some Syrian recipes and they showed interest in the taste of the food and the way I cook using mainly vegetables and some types of wheat, corn, and bulgur, with a selection of appetizers like hummus and labneh, bread and some dairy mixed with olive oil and courses based on what our land provides us with. In Syria we have very fertile land and an incredible climate for growing food. Syria is located on the east side of the Mediterranean and it is the biggest country of the Levant region, which was a host for several civilizations. Our diet has evolved over thousands of years from many different influences which is what makes it so delicious.
If you're wondering what authentic, home cooked Syrian food is really like, I promise you I will be able to show you.
I joined Migrateful to give me a platform to integrate, cook and teach my recipes to different people from the around world. Food is what unites us. One of my favourite Syrian sayings is "the hungry bird doesn't dance, so let's break bread together and talk."
If you have any questions about the format of this class please feel free to contact hello@migrateful.org. Thank you to All Saints Peckham for kindly hosting us.
Payments made through Paypal can take up to 48 hours to have the order confirmed. To guarantee your spot on a cookery class we recommend using a debit or credit card.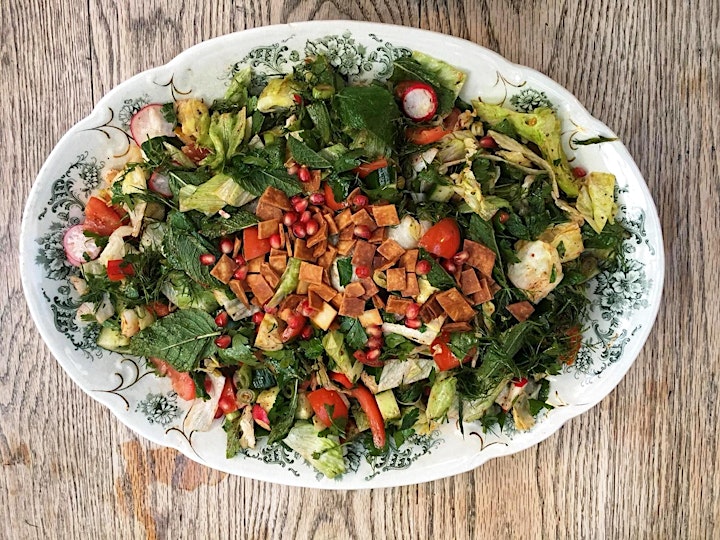 ^ Picture of fattoush kindly shot by a participant during Yusuf's class