Learn the secrets of Moroccan cooking with Zineb in her online cookery class!
Join Chef Zineb in preparing a wonderful Moroccan meal for her online cookery class! This is your chance to learn a brand new cuisine, support an amazing cause, and eat great food.
The class will be conducted as an interactive virtual cook-along. All participants will be sent a confirmation email with a list of ingredients and quantities and equipment needed for the class, as well as a Zoom meeting link. If you do not receive the confirmation email please check your spam folder. If you are still missing information about the class please email hello@migrateful.org. The classes range from 1.5-2 hours long. The chef will lead the group through the recipe; stopping frequently to answer questions, share anecdotes, and provide feedback on your dishes!
Chef Zineb's cook-along dishes will be Cauliflower, Olive and Lemon Tagine, Taktuka (Roasted Peppers and Tomatoes) and Zalouk (Mashed Carrot Salad)
​Equipment List
1 medium saucepan
1 masher (potato masher, or a fork will do)
1 baking tray
1 plastic ziplock bag
1 mixing bowl
1 large frying pan with a lid (or a tagine!)
1 chopping board
1 sharp knife
3 stirring spoons
Ingredients List
Carrots
Small cauliflower
Red bell pepper
Green bell pepper
Vine tomatoes
Small white onion
Garlic
Olive oil
Lemon juice
Parsley and coriander
Cumin powder
Paprika
Black pepper
Ginger powder
Turmeric
Tomato puree
Red chilli
Green chilli
Preserved lemon, skin only (optional)
Message from Zineb: "Hi everyone, my name is Zineb and I am from Morocco which is situated in North Africa. I inherited my great passion for cooking from my mother. I was always fascinated by her creativity. Moroccan food has consistently been ranked in the lead for being one of the best cuisines. In Morocco we have an abundance of spice, vegetables and fish that reflect on the huge repertoire of dishes we have, from couscous to tagines. It was alien for us to buy ready-made food; anything and everything was made at home. My mother pickled her own olives and it was such fun as we would all help out. She made her own bread and biscuits and dishes were all made according to the seasons.
For me, cooking is therapy, a form of art and love! I always enjoyed mealtime as it was filled with many debates, discussions and laughter around a colourful table. This sadly is starting to disappear but I try hard to maintain it within my own family (if I manage to get them to put their phones down 🙈😂)"
Payments made through Paypal can take up to 48 hours to have the order confirmed. To guarantee your spot on a cookery class we recommend using a debit or credit card.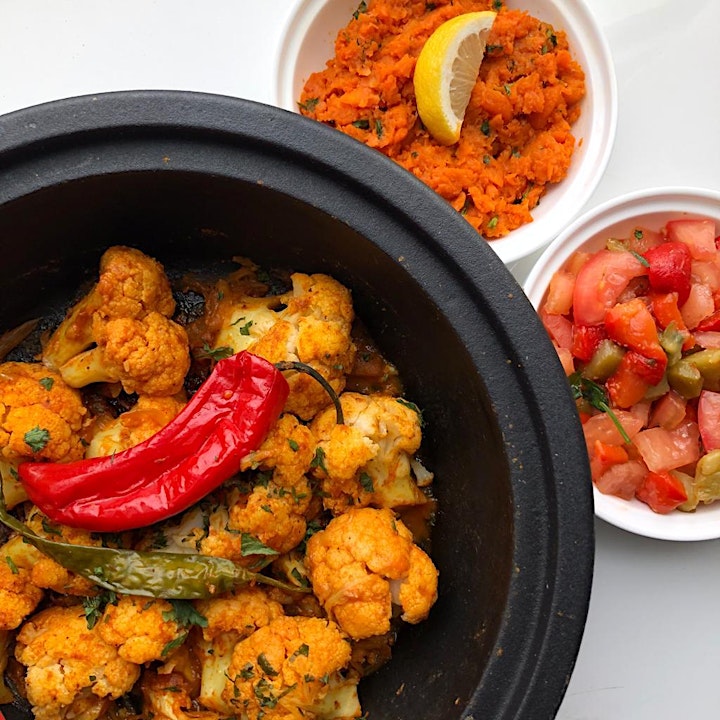 ^ Picture of her online class menu, kindly shot by Zineb @taginehub