Learn the secrets to Nigerian cooking in Betty's online cookery class!
Join Betty in preparing a wonderful Nigerian meal for her new online cookery class! She is a wonderful teacher, chef and story-teller. She will share the secrets to traditional Nigerian dishes. This is your chance to learn a brand new cuisine, support an amazing cause, and eat great food!
The class will be conducted as an interactive virtual cook-along. The classes usually range from 1-2 hours long. The chef will lead the group step by step through the recipes; stopping frequently to answer questions, share anecdotes, and provide feedback on your dishes!
Before the class we will send you a list of ingredients, quantities and equipment so you can join ready to learn! We will also send you a reminder email 3 days before the class takes place that will include the Zoom link, titled "Your upcoming online Migrateful Class". You can also find the Zoom link on the Online Event Page, accessible through the link included in the Eventbrite reminder email. We will also include the zoom link in the Eventbrite Order Confirmation email.
Betty's cook-along dishes will be Jollof Rice, Nigerian Peanut Soup and Fried Plantain.
Equipment List
2 Large saucepan
Blender or food processor
2 Frying pan
Chopping board
Knife
Ingredients List
150g Basmati rice or long grained rice
200 grams of chicken thigh chopped into approx 16 pieces
1 tin plum tomatoes
1 small onion, chopped
1 ½ red scotch bonnet chilli (optional)
1 tsp tomato puree
4 ½ cubes vegetable or chicken stock
1 ½ tsp curry powder
3 bay leaves
½ tsp thyme
1 tbsp palm oil (optional)
200g smooth peanut butter
500ml water
1 smoked/fresh mackerel (or any other fish or chicken. For veggie option 300g of mushrooms)
2 yellow plantains
Vegetable oil
Salt to taste
Message from Betty: "My name is Betty. I was born in Nigeria. I came to London when I was 16. It wasn't easy coming to a new country on my own, but I had to grow up fast. I don't like to call myself a victim. I am a survivor. The thing I found most difficult when I first came to London was realising for the first time that I was different and that people looked at me differently here. I felt very alone. The first Christmas was the most lonely. I missed my family, especially my dad. I love to cook and I love to eat not just any food but good food. I feel alive when I see others enjoying my cooking. It is a form of therapy for me, I like to get my hands into something and cooking is the best way I can do that.
Nigerian cuisine has so many different dishes. We have lots of different tribes in Nigeria and different cultures and languages and so everyone has their own way of cooking. We celebrate every occasion with food – it's a huge part of our culture. Cooking is something that Nigerian families always do together and recipes are passed on through generations. Sharing food with friends and family is really important to me and this is why I love Migrateful.
Joining Migrateful is one of the most rewarding things I have done for a long time. I never thought I could ever have the confidence to cook in front of other people that weren't my family. It's great to meet other chefs that are in a similar situation to me, also experiencing the difficulty of the immigration process. I can be myself in this group and I really appreciate it."
Payments made through Paypal can take up to 48 hours to have the order confirmed. To guarantee your spot in a cookery class we recommend using a debit or credit card.
Please note, we only process refunds and ticket transfers if we are notified 7 days before the class takes place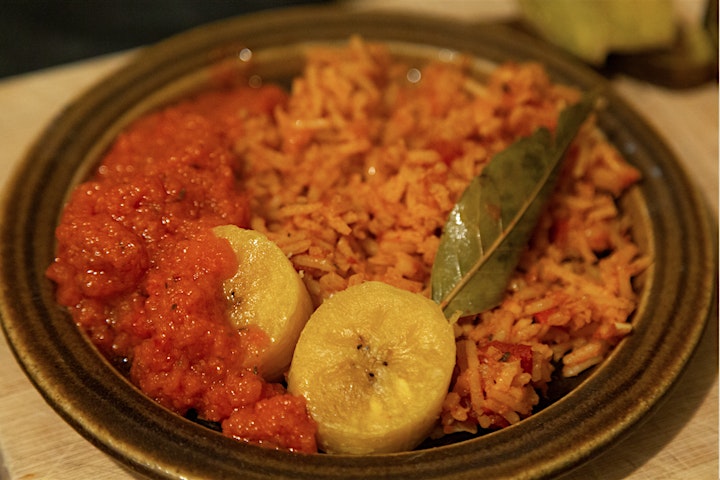 ^ Picture kindly shot by a participant during Betty's online class