Chef Stella will teach hard-to-find Nigerian recipes followed by a sit-down meal. A delicious learning experience like no other!
It's our joy to welcome you to our Station Style Cookery Class, a one-of-a-kind cookery class experience where refugee and migrant chefs teach personal recipes from their home countries using traditional techniques. It's a unique opportunity to learn and taste the world's best, and to feed the foodie in you who loves nothing more than trying new, mouth-watering flavours and incredible-looking dishes!
Your class will be taught by our wonderful Chef Stella from Nigeria at the Migrateful Cookery School in Clerkenwell, London.
At our Station Style Cookery Classes, each participant will be paired up and have their own cooking station where they will prepare all the dishes for the night. Each station will be provided with all the ingredients and equipment needed to make them. Throughout the evening, Chef Stella will share stories about their cuisine and culture, and lead the group step-by-step through their recipes. She will pause in between to answer questions, talk through special tips and techniques, and provide feedback on the dishes. Yes, you learn in the most authentic way! You will also be emailed the recipes after the class.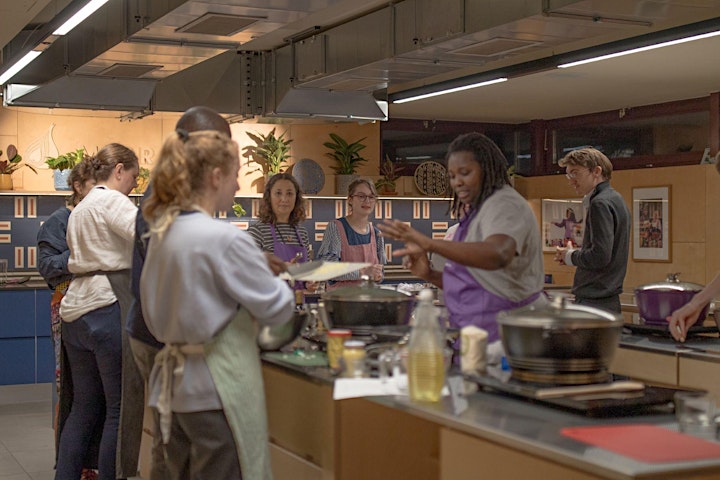 A sample menu of the dishes that will be taught include:
Nigerian Fried Rice | Fish; Crustaceans, Mustard, Egg, Milk, Soy. Maggi's Vegetable Stock Cube may contain Celery.
Garnished Plantain | Vegetarian; Egg, Milk, Soy. Maggi's Vegetable Stock Cube may contain Celery.
Uzobah (Nigerian Coconut Custard Pudding)| Vegetarian; Milk
This menu contains shellfish but can be made vegetarian. Allergens include: crustaceans mustard, egg, milk, soy. Maggi's Vegetable Stock Cube may contain celery.
Please let us know if you have any specific dietary requirements so our team is aware ahead of the class but kindly note that we will not be substituting any ingredients to accommodate dietary needs so please only book into classes that suit your dietary preferences and needs. Please see our Food and Allergen Policy when booking into the class for more information.
A message from our Chef Stella:
"Hi, my name is Stella, I grew up in Nigeria and started cooking and growing food from a very young age. I LOVE food, I love the cooking, the sharing food with others and the way that it brings people together.
I didn't have the opportunity to go to school, but worked from a young age in my mother's street food restaurant making akara, a popular cake made from beans, plantain, and her own creation, another special snack called meat pie. Her food was very popular as it was so yummy! We had a small farm where we would grow our own aubergines, okra, mango, palm, beans, yam and other delicious vegetables, everything was organic and tasted so much better than the ingredients you get in the supermarkets over here.
When I grew up I met a man, we can say that he is a nasty man. He promised me opportunity, a future and said that he would take me to Europe. He did some horrible things to me, and took me to England, where I became stuck in a situation that I do not want to go into here. I experienced lots of racism and abuse and felt very scared, but I always had the voices of my mother and father with me, encouraging me and giving me belief of a better future.
After 3 and a half years a friend helped me to escape, I found support with the Helen Bamber Foundation and joined a choir, a photography group, a hiking club. They also introduced me to Migrateful to continue developing my main passion, cooking!
My aim in life is to be a chef, writing recipes and sharing my creations with the world. It makes me so happy for people to be eating my dishes. I would also love to have a garden or an allotment, or even a farm, to grow my own vegetables, to be able to make the best food, caring for the ingredients from seed to plate."
We're excited to have you in the class! Please take note of a few final reminders:
We sell Migrateful aprons that you can purchase before the cookery class starts at the venue. Please note we only accept card payments.
We will send you a reminder email 3 days before the class takes place that will include our In-Person Class COVID-19 Policy. You can also find more information on our website and social media pages.
This small-scale class for 16 participants is not socially distanced. For those seeking a Covid-secure cookery class, please see our online events.
We require a minimum of 6 participants to run this class and reserve the right to cancel it due to insufficient enrolment. If this occurs, we will, at your convenience, transfer you to another class of your choice of the same value. If this option does not suit you, you will have the choice to receive either a gift voucher for the class or a full refund. In the case of insufficient enrolment, we will inform you at least 6 days before the class.
Payments made through Paypal can take up to 48 hours to have the order confirmed. To guarantee your spot in a cookery class we recommend using a debit or credit card.
We only process refunds and ticket transfers if we are notified 7 days before the class takes place. No changes are allowed if the class is missed. When you register for this event, you are agreeing to our Terms and Conditions. If you are not able to attend the class, you can pass on your tickets so someone else can attend on your behalf.