Chef Sultana will teach delicious, authentic Syrian dishes followed by a sit-down meal. Warm & easy, like being with family!
Nothing beats a home-cooked meal shared with family! And this is what inspires our Family Style Cookery Classes, a fun, laid-back homestyle cooking experience. Here, you will learn to prepare different dishes and then enjoy them with people who, like you, fuel our mission of supporting refugee and migrant chefs on their journey to integration. It's a cookery class with a conscience, like they say!
Your class will be led by our wonderful Chef Sultana from Syria at Coexist Community Kitchen in Bristol.
At our Family Style Cookery Classes, you will be grouped with other participants and prepare dishes together as a team. Think of Chef Sultana as the head of the family! She will take care of dividing the class into groups, and each group will be responsible for creating one of the dishes. Of course, you are welcome and encouraged to move around during the class to learn about the other dishes being prepared. Throughout the evening, Chef Sultana will share stories about their food and culture, and explain how to prepare each of the dishes so you come away with some new cooking tricks and inspiration from Syria. You will also be emailed the recipes after the class.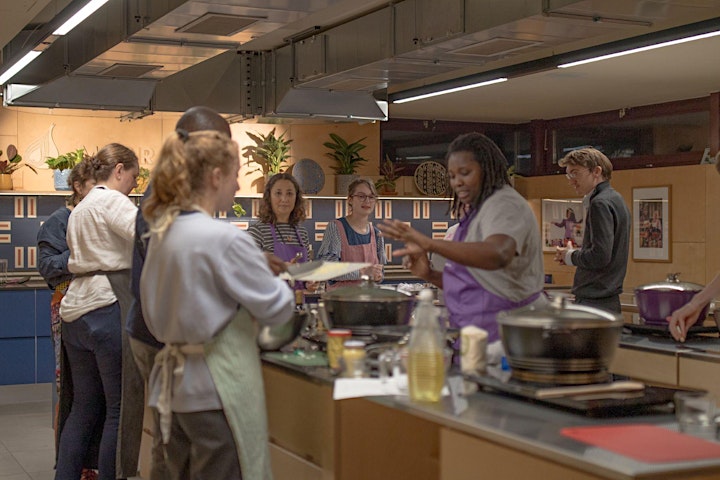 A sample menu of the dishes that will be taught include:
Lamb Shishbarak (Spiced Lamb Dumplings in Yoghurt) | Meat (Lamb); Gluten, Eggs, Milk, Celery, Sulphites
Potato Shishbarak (Vegetarian Spiced Potato Dumplings in Yoghurt) | Vegetarian; Gluten, Egg, Milk, Celery
Lamb Kibbeh (Deep Fried Bulgur Wheat Stuffed with Spiced Lamb) | Meat (Lamb); Gluten, Eggs, Milk, Celery, Sulphites
Spinach Kibbeh (Vegetarian Deep Fried Bulgur Wheat Stuffed with Spinach) | Vegetarian; Gluten, Egg, Milk, Celery
Fattoush (Salad with Pomegranate and Flatbread) | Vegan; Gluten
This menu caters to both vegetarians and those who eat meat (lamb). Allergens include: gluten, milk, eggs, celery, sulphites.
Please let us know if you have any specific dietary requirements so our team is aware ahead of the class but kindly note that we will not be substituting any ingredients to accommodate dietary needs so please only book into classes that suit your dietary preferences and needs. Please see our Food and Allergen Policy when booking into the class for more information.
A message from our Chef Sultana:
"I am Sultana. I like cooking because when I was a child I saw all my family enjoy cooking together. I had a big family so there was more reason to cook a lot; all my sisters, my aunts and my grandmother would sit and help each other cooking. I had a nice time speaking and hearing many stories. Making food and trying new recipes is a great way to spend time with the family, forget our jobs and hard times and keep the family warm."
Thanks so much to Coexist Community Kitchen for hosting us!
We're excited to have you in the class! Please take note of a few final reminders:
We sell Migrateful aprons that you can purchase before the cookery class starts at the venue. Please note we only accept card payments.
We will send you a reminder email 3 days before the class takes place that will include our In-Person Class COVID-19 Policy. You can also find more information on our website and social media pages.
This small-scale class for 12 participants is not socially distanced. For those seeking a Covid-secure cookery class, please see our online events.
We require a minimum of 6 participants to run this class and reserve the right to cancel it due to insufficient enrolment. If this occurs, we will, at your convenience, transfer you to another class of your choice of the same value. If this option does not suit you, you will have the choice to receive either a gift voucher for the class or a full refund. In the case of insufficient enrolment, we will inform you at least 6 days before the class.
Payments made through Paypal can take up to 48 hours to have the order confirmed. To guarantee your spot in a cookery class we recommend using a debit or credit card.
We only process refunds and ticket transfers if we are notified 7 days before the class takes place. No changes are allowed if the class is missed. When you register for this event, you are agreeing to our Terms and Conditions. If you are not able to attend the class, you can pass on your tickets so someone else can attend on your behalf.