Learn the secrets of Ukrainian cooking in Anastasia's online cookery class!
Join Anastasia in preparing two wonderful Ukrainian dishes for her online cookery class! This is your chance to learn a brand new cuisine, support an amazing cause, and eat great food.
The class will be conducted as an interactive virtual cook-along. The classes usually range from 1-2 hours long. The chef will lead the group step by step through the recipes; stopping frequently to answer questions, share anecdotes, and provide feedback on your dishes!
Before the class, we will send you a list of ingredients, quantities and equipment so you can join ready to learn! We will also send you a reminder email 3 days before the class takes place that will include the Zoom link, titled "Your upcoming online Migrateful Class". You can also find the Zoom link on the Online Event Page, accessible through the link included in the Eventbrite reminder email.
Anastasia's cook-along dish will be Ukrainian Borscht and Pancake
Equipment List
Saucepan
Frying pan
Grater
Whisk
Chopping board
Mixing bowl
Ingredients List
1 tsp vegetarian stock powder + 1 L hot water
1 medium potato
4 tbsp olive or sunflower oil
½ medium red or white onion
1 garlic clove, finely chopped
1 medium beetroot
1 small carrot
½ parsnip
½ celery stick
½ small red bell pepper
1 tsp tomato puree
2 tbsp chopped tomatoes
2 large cabbage leaves
½ can of white, red or black-eyed beans
1 dried bay leaf
Salt to taste
Sour cream or creme fraiche or Greek yoghurt (optional for serving)
Parsley (or dill or coriander for garnish)
Bacon (optional topping for serving)
1 egg
125ml warm milk
125ml warm water
120g plain flour
50g any hard cheese, grated
1 bunch of spring onions
¼ tsp bicarbonate of soda or baking powder
Salt to taste
50g butter
Message from Anastasia: "Hello I'm Anastasia from Ukraine. I grew up in a place called Kherson in the South of Ukraine. The Russians invested a lot of money in my city because it's on the border with Turkey next to the sea and has very fertile land so strategically it's a very important place. My food is very rich and heartwarming – if you like Turkish food you'll love my food because there's a strong Turkish influence. Because my region is so fertile we cook with lots of dairy, vegetables and fish.
When I was little I always loved to watch my mother cooking – I liked to help her cook and that's how I learnt. We had a very communal household – everyone in Ukraine cooks. You're told that if you don't know how to cook you will never find a husband!
When I was at university, Ukraine wanted independence and that's when the conflict with Russia started. The economy in Ukraine plummeted and all my family started to migrate. My sister went to Australia with my parents but I wasn't allowed there, my visa was rejected. So I went to Russia. But because I had a Ukrainian accent and passport, people were very hostile to me, it was hard to get work. I came to the UK in 1999 and settled here.
I find London a lonely place. People are often hostile to me because I'm from Eastern Europe. People often know nothing about Ukraine. It means I've started to keep myself to myself and that has made me lonely. So Migrateful is a way to meet open-minded people who share the same values as me. I'm so excited to talk to my class participants about my culture. It makes me feel very free. It's a platform where I can really be myself and get my identity back. Here people are actually interested in me and my culture, it's so lovey. Finally, I feel like somebody."
Payments made through Paypal can take up to 48 hours to have the order confirmed. To guarantee your spot on a cookery class we recommend using a debit or credit card.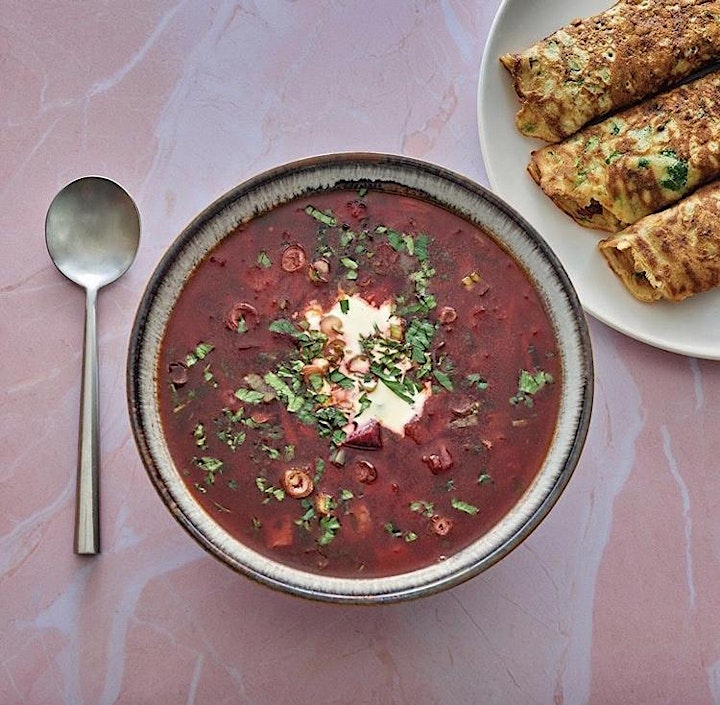 ^ Picture kindly shot by participants @scoff_time during Anastasia's online class