Learn to make traditional Sri Lankan dishes bursting with flavour in Yogi's online cookery class
Join Yogi in preparing wonderful Sri Lankan dishes for his online cookery class! He is a wonderful teacher, chef, and story-teller. He will share the secrets to traditional Sri Lankan dishes. This is your chance to learn a brand new cuisine, support an amazing cause, and eat great food.
The class will be conducted as an interactive virtual cook-along. The classes usually range from 1-2 hours long. The chef will lead the group step by step through the recipes; stopping frequently to answer questions, share anecdotes, and provide feedback on your dishes!
Before the class, we will send you a list of ingredients, quantities and equipment so you can join ready to learn! We will also send you a reminder email 3 days before the class takes place that will include the Zoom link, titled "Your upcoming online Migrateful Class". You can also find the Zoom link on the Online Event Page, accessible through the link included in the Eventbrite reminder email.
Yogi's cook-along dish will be Pepper Mushroom Curry and Dhal Curry (Lentil Curry)
Allergens include: mustard
Equipment List
2 saucepans
Pestle & mortar or spice grinder or
Rolling pin to crush spices
1 medium bowl
1 frying pan
Ingredients List
100g red lentils
200g Mushrooms
200ml coconut milk
3 onions
6 garlic cloves
3 small green chillies
2 tomatoes
Pack fresh curry leaves
1 thumb Ginger
2 tsp turmeric powder
½ tsp black mustard seeds
1 tsp Chilli powder
½ tsp cumin seeds
2 tbsp fennel seeds
2 tbsp Coriander powder
1 ½ tbsp peppercorns
2 dried red chillies
Small bunch of fresh coriander for garnish
Salt
Cooking oil
Message from Yogi:
''Hi, I'm Yogi from Sri Lanka. I arrived in the UK 12 years ago, and I didn't even know how to make a cup of tea! I depended on my friends to cook for me. Later, I decided to learn how to cook, so alone in the UK I had to learn from scratch. My teacher was my mother, who instructed me over the phone. Gradually, I learnt to recreate the tastes and smells of my home's cuisine. I used to cook for people at the charity and they told me about Migrateful. Now I cook for neighbours and friends, and they love my tasty, spicy curries. I particularly like hot chillies, so when you cook along with me you might need to reduce the number of chillies! I am very excited to share my Srilankan recipes with you."
PLEASE READ CAREFULLY BEFORE BOOKING INTO A CLASS:
Payments made through Paypal can take up to 48 hours to have the order confirmed. To guarantee your spot on a cookery class we recommend using a debit or credit card.
Please note that we only process refunds and ticket transfers if we are notified 7 days before the class takes place. No changes are allowed if the class is missed. When you register for this event, you are agreeing to our Terms and Conditions. If you are not able to attend the class, you can pass on your tickets so someone else can attend on your behalf.
We require a minimum of 6 participants to run this class and reserve the right to cancel it due to insufficient enrolment. If this occurs, we will, at your convenience, transfer you to another class of your choice of the same value. If this option does not suit you, you will have the choice to receive either a gift voucher for the class or a full refund. In the case of insufficient enrolment, we will inform you at least 6 days before the class.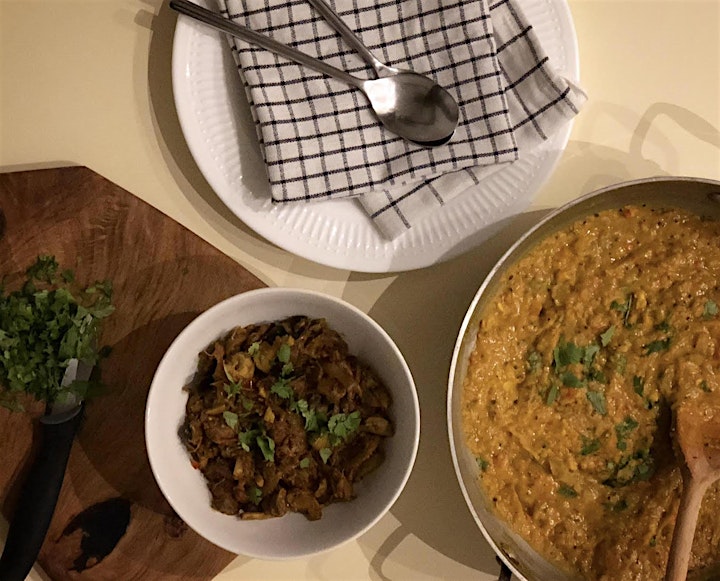 ^ Picture kindly shot by participant @khelabaxter during Yogi's online class